Eat-Rite Diner established in the 1940's still forges on after 70+ year

s offering the basic breakfast, lunch, and dinner specials that appeal to the everyday working person at a reasonable price. Bacon, eggs, toast, hashbrowns, and coffee for less than $5. Six hamburgers for $4.50. 3 pc Chicken, fries, slaw, all for $5.50.
No reservations and no tables in this near downtown diner, you have to

hope one of the dozen stools is open. The good news is

you'll get friendly service from the likes of Dee, Jackie, Eileen, and Wayne among others. Dee, giving cheerful service and good food since 1972, is the elder stateswoman of this diner. Several types of pie available depending on the season along with the regular menu.
If after dessert, you're still looking for excitement, well you have your choice of Roller Derby or Eight Ball on the pin ball machines.
If you want to just relax, have another cup of "java" and play a tune on the juke box.
Simply Irresistible by Robert Palmer, Strokin' by Clarence Carter, Green Onions by Booker T & The MG's, or Maybellene
by Chuck Berry are some of the great tunes on this great juke box.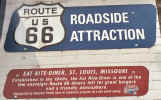 The Eat Rite diner at 622 Chouteau is considered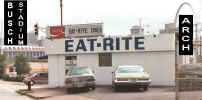 a Route 66 landmark and is an easy walk from Busch Stadium,
the ARCH,or the Soulard area. A second diner is located South of St. Louis at 5513 South Lindbergh Blvd
and a third diner is located Southwest of St. Louis at 1059 Gravois Road.
As the popular St. Louis bumper sticker says:
EAT-RITE or Don't Eat At All

Back to "Joints-Eat Rite" page
Copyright © 1998-2017 MojoRat LLC. All rights reserved.
Page added July 26, 2004