Early Wright Blues Heritage Award
This award honors Mr. Early Wright, "The Soul Man" of WROX radio who
became Mississippi's first African American radio DJ in 1947. Early Wright
was the symbolic leader of the annual Sunflower River Blues & Gospel Festival
and the Early Wright Award has been presented each year at the Festival during
August since 1991. This award is presented to a non-musician for outstanding work
to "preserve, promote, perpetuate, and document blues in the Mississippi Delta."
Early Wright was born on February 10, 1915 in Jefferson, MS and died
on December 10, 1999 in Memphis, TN. Facts about Mr. Wright: Moved to
Clarksdale in 1937; was a farmer; learned to drive a train; was a mechanic;
was a manager of a Gospel group; was hired by Buck Hinman, manager
of WROX; interviewed Elvis, Muddy Waters, BB King, Bobby Rush,
Ike Turner, Tina Turner, Sonny Boy Williamson, Robert Nighthawk,
Little Milton, Pinetop Perkins, Rufus Thomas, and Charley Pride; profiled on
CBS, ABC, and CNN; written up in The Los Angeles Times, The Atlanta Constitution,
and The Washington Post; an Early Wright scholarship was established
at the University of Mississippi in 1988.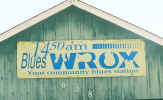 WROX-AM is the oldest Radio Station in Northwest Mississippi.
The Station opened on June 2, 1944 with 250 watts broadcasting from 321 Delta
Avenue in Clarksdale, MS. The station moved to 257 Delta Avenue in 1946 and
remained there for nine years until moving to the Alcazar Hotel in 1955.
The station remained within the Hotel until 1980.
After additional moves, in 2005 WROX relocated to 628 Desoto Avenue.

Kinchen H. O'Keefe Jr. purchased the Hopson Building in 1999 and "Bubba"
maintains the WROX Museum at 257 Delta Avenue. The first floor has
a display of early radios and the second floor has a recording studio.
Early Wright Award Winners
1991 Early Wright - The Soul Man d 12-10-1999
1992 Raymond "Skip" Henderson, music promoter & historian
1993 Sidney F. Graves Jr, founder Delta Blues Museum d 1-9-2005
1994 Jim O'Neal, founder Rooster Blues Records
1995 Panny Flautt Mayfield, journalist, writer
1996 Lillian McMurry (Shedd), founder Trumpet Records d 3-18-1999
1997 John Anton Ruskey, Delta Blues Museum Curator
1998 Johnnie Billington, Master Blues teacher d 4-1-2013
1998 William Howard Stovall IV, Blues Foundation Director
1999 Lewellyn L. Houston, Festival promoter
2000 Mae Smith, Delta Blues Museum specialist
2001 Yvonne M. Stanford, Sunflower Blues secretary
2002 Sam & Doris Carr, Delta Blues members Sam d 9-21-2009 Doris d 11-13-2008
2003 Frank 'Rat' Ratliff, owner Riverside Hotel d 3-28-2013
2003 Sonny Payne, host of King Biscuit Time KFFA d 2-9-2018
2004 Catherine Clark, Treasurer Sunflower Blues Association
2005 Nathan J. Mullen Attorney, Sunflower Festival Chairman
2006 Leroy 'Red' Paden, owner Red's Lounge
2007 John Sherman, Attorney
2008 Steve Ladd - Radio Veteran d 7-20-2008
2009 Rita M. Marascalo long-time Blues Patron
2010 Wade Fondren
2011 Shelly Ritter, Blues Museum Director
2012 ???
2013 Roger Stolle, owner Cathead Store
2014 Harold Pontez
2015 Bill Gresham & Dorothy(Ginger) V. Johnson
2016 Paul Wilson, Owner WROX
2017 Charles Douglas Musslewhite, Musician
2018 James Johnson, Musician
2019 Anthony Ray Stafford, Blues Museum Staff d 6-2-2019
2020 cancelled 2020
2021 Samuel Davis
2022 Lyceum Committee of Coahoma Community College

Back to "Events-Early Wright Award" page