Check out these gigs
Page updated in June-2020
Fun Filled Parties in 2020 & 2021
What's life if you don't dance?
"We don't know where we're going,
Somewhere is for squares"
Big Muddy Blues Fest-St Louis, MO
Burning Man Fest-Black Rock City, NV
Cotton Patch Blues Festival-Holly Springs, MS
Cruzn the Crossroads Car Show-Clarksdale, MS
Deak's Harp Fest-Clarksdale, MS
Deep Blues Festival-New Roxy/ShackUp Inn-Clarksdale, MS
Early Wright Blues Heritage Award-Clarksdale, MS
Fantasy Fest-Key West, FL
Four Mounds Blues-Dubuque, IA
Hobo Convention-Britt, IA
Juke Joint Festival-Clarksdale, MS
King Biscuit Blues-Helena, AR
Mardi Gras-St Louis, MO
Memphis In May-Memphis, TN
MS John Hurt Festival, Carrollton, MS
Mushroom Festival-Muscoda, WI
Mystic Knights Blues-New Orleans, LA
New Orleans Jazz-New Orleans, LA
North MS Hill Blues-HWY 7, MS
Oktober Festival-St Louis, MO
Othar Turner Goat Picnic-Coldwater, MS
Paint the Town of Clarksdale, MS
PT Cruiser Meet Me in St Louis
Robert Johnson Gravesite Tribute-Greenwood, MS 3-20-2004
Red Lion Casino-Elko, NV
Route 66 Festival-Springfield, IL
Riverwalk Blues-Ft Lauderdale, FL
Strassenfest-Chesterfield, MO
Sunflower Blues Festival-Clarksdale, MS
Superman Days-Metropolis, IL
Threshers Reunion-Mt Pleasant, IA
Times Square New Years-New York, NY
Toodle-oo Stew-East St Louis, IL
Willie King Freedom Festival-Aliceville, AL
Winter Dance Party-Buddy Holly-Clear Lake, IA

click on RED link to see more.......
Feb - 2021 Buddy Holly Winter Dance Party at The Surf Ballroom
460 North Lake Shore Dr - Clear Lake, IA 641-357-6151
60th Anniversary was in 2019! In 2019 you saw Jay and The
Americans, Little Anthony and The Imperials, Linda Gail Lewis,
Edan Everly, Austin Allsup, Chubby Checker, The Chiffons,
Bobby Cochran, and Albert Lee. In 2018 it was Freddy Cannon,
Brenda Lee, Bobby Rydell, & Austin Alsup. 2017 was Tommy
Allsup, Johnny Rivers, and Lloyd Price, Whitesidewalls, & Del
Shannon. In 2016 it was Martha Reeves, The Coasters, Flash
Cadillac, and The Crickets. In 2015, it was Frankie
Avalon, Bill Haley Jr. and The Comets, Tommy Alsup, The
Whitesidewalls, L.A. Party Dolls, and Lou Christie. In 2013,
it was Gary Busey, Eric Burdon & The Animals, Gary U.S.
Bonds, and Matt & Gunnar Nelson. In 2009, this annual
event commemorated the 50th anniversary of the
Feb 2, 1959 concert that featured Buddy Holly, Richie Valens,
and The Big Bopper. It's also known as, "The Day the Music
Died," as these three Rock-n-Roll Stars died outside of
town in a plane crash after finishing the show.
www.surfballroom.com
link to Mardi Gras pages - click here
February 13, 2021 Soulard-St Louis, MO Mardi Gras Grand Parade
at 11 A.M. & Rat Pack Mardi Party www.mardigrasinc.com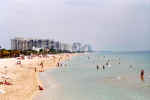 Feb - 2021 POSTPONED? It was postponed for 2009 but back
in action since 2010. OOPS Postponed again since 2017.
The Annual Riverwalk Blues & Music Festival in Esplanade
park in Ft Lauderdale, FL One of the premier Blues Festivals
in the South. Look for Guy Davis, Wolfman Washington, J P Soars,
and Albert Castiglia, among others. Great Lineup. Great City.
www.RiverwalkBluesFestival.com
*************CANCELLED FOR 2020
April - 2021 Annual Juke Joint Festival in Clarksdale, MS
662-624-5992 Jukin' in The Land of The Blues. Down home Blues
at Pete's, Messenger's Pool Hall, Bluesberry Cafe, Ground Zero,
Grandma's House, and other joints Boys & Girls. It don't get much
better than this for Southern hospitality, good food,
and great music. www.jukejointfestival.com for more info
2015 Juke CLICK HERE 2014 Juke Joint CLICK HERE
2013 Juke CLICK HERE 2012 Juke Joint CLICK HERE
2011 Juke CLICK HERE 2010 Juke Joint CLICK HERE
2008 photos CLICK HERE click here for 2007 photos
click here for 2006 photos click here for 2005 photos
************* CANCELLED FOR 2020

April 2 to May 2, 2021 New Orleans, LA Jazz Fest with Sting,
Jimmy Buffett, Beck, David Byrne, Bonnie Raitt, Sheryl Crow,
Smokey Robinson, Aaron Neville, Lyle Lovett, Eddie Cotton,
Sonny Landreth, Fabulous Thunderbirds, Mitch Woods,
Irma Thomas, Aerosmith, Trombone Shorty, and hundreds
of more acts. 400,000 people all at The Fair Grounds Race Track
1751 Gentilly BLVD - New Orleans, LA 70119
www.nojazzfest.com
** POSTPONED UNTIL OCT 16-18, 2020
click on RED link to see more.......
May 1-3, 2020 Memphis in May - Memphis, TN 100,000 people will
gather at the end of Beale Street in Tom Lee Park. Four stages of
music greats on the Mississippi River. I don't know if you'll see Elvis,
but you might see Jimbo Mathus, Bettye Lavette, Deak Harp,
India.Arie, Big Boi, North MS Allstars, R L Boyce, Terry Bean,
Blind MS Morris, Kingfish, Joe Louis Walker, Butch Mudbone,
and Big T, along with 60 other music acts.
www.memphisinmay.org for more info.
** POSTPONED UNTIL Sep 25-27, 2020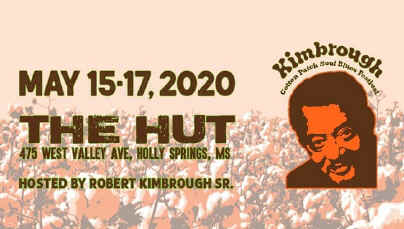 Click here on RED to see 2018 Pictures
click here on RED link to see 2017 pictures .......
May 15-17, 2020 Annual Cotton Patch Festival
at The Hut 475 West Valley Ave - Holly Springs, Mississippi 38635
Call Robert Kimbrough at 662-471-0846 for more info.
2020 will be the 4th annual. Great fun with Kimbroughs, RL Boyce,
Lightning, Little Joe, Dan Russell, and others.
CANCELLED FOR 2020



May 16-17, 2020 Annual Morel Mushroom Festival - Muscoda, WI
608-739-3182 Always the week end after Mother's Day. Now Boys,
these be the eatin' kind, don't be trying to smoke these mushrooms.
Butter and garlic in the frying pan and you got yourself a treat like
nothing else in this world! Bake Sale, Flea Market, Helicopter Rides,
Car Show, Pancake Breakfast, Tractor Pulls, and Steak Feed.
www.muscoda.com for more info.
Sad to say Willie died on March 8, 2009 and this Festival has ended.
The month of June was the Annual Willie King Freedom Creek
Festival held for years in Aliceville, Alabama.
This was a down-home blues festival attended by 500 or more fans.
The area musicians performed along with national stars such as
Jodie Williams, Eddie Kirkland, Little Jimmy Reed, Kent & Garry
Burnside, and Elnora Spencer among others. Always was a great time
with good friends, music, and food. You went to Aliceville, AL and took
route 17 South out of Aliceville about 9 miles,
then headed West on County Rd 32 about a mile, then turned right
on County Rd 1 and went past the church and took the next right
which is Old Memphis Road. Signs were posted to take you right on
past Willie's digs and into the festival area.
www.Willie-King.com
**********CANCELLED FOR 2020
click on RED link to see more.......
June 10-13, 2021 Superman Days - Metropolis, IL 1 800-949-5740
10,000 people roll into this little town for good clean fun on
the weekend. Look for Erica Durance-Smallville Lois Lane,
and Sarah Douglas or Maybe Lou Ferrigno, Ned Beatty,
Jackson Bostwick, and other Superheros.
Truth - Justice - The American Way
www.SupermanCelebration.net for more info.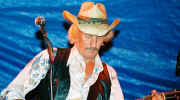 June - 2020 CANCELLED for 2018 but back in 2019. North Mississippi Hill Country
Blues Festival Corner of HWY 7 south & HWY 310 in Waterford, MS 38685 about
15 minutes south of Holly Springs, MS or 15 minutes north of Oxford, MS.
2,000 people last year for the likes of Kenny Brown, Alvin Hart,
Bobby Rush, Jimbo, the Burnsides, the Kimbroughs, the Dickinsons,
Rising Star Fife & Drum, Little Joe Ayers, R L Boyce, and more.
Previously held at Foxfire Ranch in Waterford, MS and at Potts Camp, MS.
Check out www.nmshillcountrypicnic.com
Click on Red for story and past award winners.......
Early Wright Blues Heritage Award The Award is presented
each year in connection with the Sunflower River Blues
Festival held during August in Clarksdale, MS.
See following item for Festival details.
Click here for 2012 Photos Click here for 2011 PHOTOS
Click here for 2010 Click here for 2009
Click here for 2008 Click here for 2006
August 7-9, 2020 Annual Sunflower River Blues Festival.
Purest Blues and Gospel in The Land Where the Blues Began
in Clarksdale, MS. 10,000 people can't be wrong! You'll
probably see Jimbo Mathus, Kenny Brown, Big T,
Cedric Burnside, Lightning Malcolm, Kingfish, and
Super Chikan, among others.
The 1st Sunflower was held in 1988 at The Larry Thompson
Center (opened in 1986 & closed in 1990), which was the
ex-Paramount Theater (opened in 1931 to 1986), which
was the ex-Marion Theater (opened in 1918 to 1931).
Musicians were Jack Owens, Bud Spires, Jelly Roll Kings,
Jesse Mae Hemphill, Otha Turner,
Rising Star Band, James "Son" Thomas, and Otis Rush.
The 2nd was held in 1989 at MLK Park on Sunflower Ave
on a flat-bed truck with a power cord stretched from a
nearby house by Mrs. Mabel Thomas, the widow of Mr.
G T Thomas. The Festival was sponsored by Mrs. Z L Hill,
owner of the Riverside Hotel. The main performers were
Johnnie Billington, Dione Thomas, and Harvell Thomas.
www.sunflowerfest.org for more info.
click on RED link to see more.......
August 7-9, 2020 - Britt, IA Annual Hobo Convention Since 1900,
that's right, 120 years ago! Not many real "BO's" left, but this is
where they'll jungle up for a week or two and you might catch
sight of St Louis Frank, Stray Cat, Inkman, GrainCar George,
Train Dummy, Redbird Express, Empress Vagabond BO Lump, or
Connecticut Tootsie, among others. See HOBO-U63 Button
(left side this page) for prior years recaps.
Always the 2nd weekend of August. Mulligan stew for everyone.
click on RED link to see more.......
Held in August for 15 years, but CANCELLED since 2010.
Four Mounds Blues Fest Dubuque, IA
4,000 people enjoying Blues right next to the Mississippi
River and the old Dubuque Star Brewery. Mark
Hummel has headlined this great event at the
outdoor Alliant Amphitheatre. Hasn't rained yet on
this crowd according to event organizer Mary Gronen.
www.fourmounds.org

August - 2020 Otha Turner b 6-2-1907 d 02-27-2003
Goat Picnic - Coldwater, MS. It's about an hour South of
Memphis at the Northwest Shrine Club 8647 HWY 51N 38618.
Used to be at Otha's house outside of Senatobia, MS, but in
2018 moved to Coldwater, MS. Everyone around there
knew this 95 year old fife player. The picnic starts on
Friday and will probably end by Sunday. A MS Blues Trail
marker was dedicated on 8-29-2009 in
Como, MS in Otha's honor.

Click Here for 2010 Photos Click Here for 2009 Photos
Click Here for 2008 picnic Photos Click here for 2007 picnic photos
Click here for 2006 picnic photos
Click here for 2005 and 2004 photos
Click here for the 2003 SUMMARY of the picnic held
in memory of Otha Turner & Bernice Pratcher.

August 30, to September 7, 2020 Burning Man Festival -
Black Rock City in the Black Rock Desert 110 miles North of
Reno, NV www.burningman.com You might see celebrities
Heidi Klum, Susan Sarandon or even Paris Hilton!
Celebrating self expression since 1986 at this counterculture festival
of arts and music in the Nevada desert. Only a few attendees
in 1986 but increased to 50,000 people by 2010 demonstrating
"radical self-expression". Tickets for General Admission are
$400 in 2018 and attendance now limited to 70,000 people and
SOLD OUT always. Not for timid people as held in the desert.
click on RED link to see more.......
September 3-7, 2020 Old Threshers Reunion -
Mt Pleasant, IA 319-385-8937 You can ride trolleys, trains, and
a 100+ year old steam powered carousel for this journey
into the past. 10,000 RV's and 30,000 people will pull
into this small town to see what life was like back
in Grandpa's "Good Ole Days."
www.oldthreshers.org for more info.
September 5, 2020 Big Muddy Blues Festival - St Louis, MO
314-482-0314 Labor Day Weekend with blues at Laclede's
Landing with Soulard Blues Band, Big Mike,
Rich McDonough, Boo Boo Davis, and Billy Barnett.
click on RED link to see the 2006 Event Summary and photos.......
A really fun event that used to be held in September each year.
PT Cruiser Meet Me in St Louis on Route 66 - St Louis Holiday
Inn-Earth City 3400 Rider Trail South - St Louis, MO 63045.
This 3-day event had over 150 fun loving people from the USA
& Canada celebrating their Chrysler PT Cruiser ownership.
Activities Include a popular Hawaiian Luau Banquet with
Limbo, Hula, Scavenger hunt, games and prizes. PT Cruiser
autos were displayed throughout the three days along
with parts dealers, detailing, and food concessions.
Neon light show plus family events all weekend.
September - 2020 Route 66 Festival - Springfield, IL 866-783-6645
www.route66fest.com This will be the 18th Annual Mother Road
Festival. You can see classic cars, motorcycles, Martin Milner,
several rock bands, and a parade. Also attend the "Sock Hop" and look
for Joey Dee and for Gary Puckett. A great Time on The Great Road.
Cruzn the Crossroads Car Show
September - 2020 Clarksdale MS 662-902-4181 for info
click on RED links to see more.......
Click here for 2017 photos ...........
Click here for 2016 photos ......

click on RED link to see more.......
TOODLE-oo NO MORE! East St Louis Toodle-oo Due to the death of
Bruce Goodrich on December 16, 2005, it appears that the Toodle-oo
series has run it's course. Starting in 1997 on the fourth weekend of
September the annual Toodle-oo held at the Fountain of Youth Park
at 4th Street and Riverpark Dr. was inspired by a 1927 Duke
Ellington tune. This festival was Bruce Goodrich's idea of helping out.
No small task as Bruce lived in Biddeford, Maine 1,300 miles away.
Due to Bruce's hard work and the help of volunteers, there was free
Toodle-oo Stew and live Jazz and Blues music.
Bruce and his efforts will be remembered by all who knew him.
May our friend rest in the peace he so deserved.

click on RED link to see more.......
Been CANCELLED since 2013, A NEW DATE IN 2020?? Strassenfest
Chesterfield Parkway Celebrate German heritage plus! Brave Combo
& Obenheimer Express, beer, food, carnival rides & crafts.
Paint Clarksdale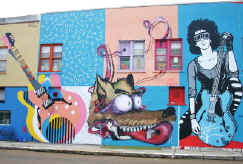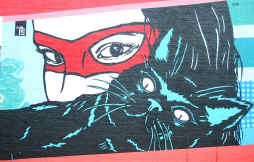 September - 2020 Paint the Town-Clarksdale, MS.
In 2019 from Columbia were Toxicomano Callejero, DJ LU.
ElCareBarbie-Juan, Andres, and Cristian. Returning from
2018 were Irma Caigcedo and Likmi Soberana from Columbia.
Rebeka Skela of Sanguine Skills, Charles, Austin, MIC Harder,
Church Going Mule, also attended.
The 1st Event was held on September 17-29, 2018 when the Five Artists from
Bogotá, Columbia added artistic displays around Clarksdale. These
experienced Street Grafiteros were also assisted by interested local people.
This project brings Art into the public sphere benefiting the city.
Many believe Graffiti Street Art started in Philly in the 1960's when "Getting Up"
became popular. However Artistic Murals were found in Southwestern France
at the Lascaux Caves. Various paintings cover the ceiling and the walls.
It is estimated that the Art was painted around 17,000 BC.
September - 2020 OKTOBER Festival at
Urban Chestnut Brewery Co. OktoberfestSTL.com
3229 Washington Ave-St Louis, MO 63103 314-222-0143
Something for everyone in the family including your dog.
Music with Al Holliday, Sean Canan, Deutschmeister Brass
Band, Bolzen Beer Band, Larry Haller, Maness Brothers,
Emily Wallace, Jack Grelle, and Tonina Saputto among others.
Circus Flora, a Children's tent, and a Purina Tent for your dog too.
Also a vendor's market. Great food with German Beer including
Brats, Porchetta, and Lebkuchen. It's FREE, but you can buy a
VIP table for 6 for $450 or a table for 10 at $750.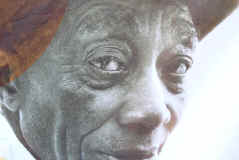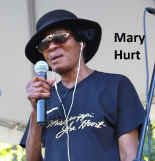 Mississippi John Hurt Festival
John Smith Hurt b March 3, 1892 Teoc, MS
d November 2, 1966 Grenada, MS
October - 2020 at 1973 CR109 Carrollton, MS 38917
This gathering is in the deep deep woods near Avalon, MS on DIRT road CR109
where The Hurt Museum is now located on land owned by Mary F. Hurt,
John's granddaughter. Road signs are not readily seen and there are forks
in the road that can lead you astray. CR109 is very narrow and you almost
have to stop if you meet anther vehicle. You must be on CR41
to reach CR109 if coming from the West.
2019 was the 20th year for this gathering. About 100 fans attended on
Saturday October 5, 2019 to hear Taj Mahal, Jesse Young, Howard Curry,
Dom Flemons, Ben & Valerie Turner, Jim Kweskin, and Guy Davis.
These talented musicians played in the John Hurt style
of easy going rural folksy stuff.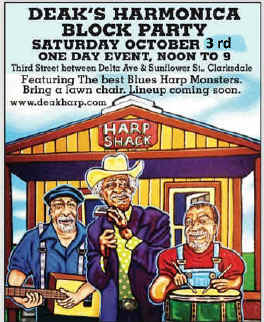 October 3, 2020 Deak Harp's Harmonica Fest at 13 3rd Street
Clarksdale, MS call Deak at 217-218-2194 for more info.
2018 was a GREAT National lineup.

click on RED link to see more.......
October 7-10, 2020 Blues and Heritage or King Biscuit Festival
- Helena, AR 870-572-5223 www.kingbiscuitfestival.com
This festival in the heart of Blues Country is a must.
The likes of Bobby Rush, Robert Kimbrough, Dave Dunavent,
Willie Cobbs, Reba Russell, Anson Funderburgh,
Little Joe Ayers, Millage Gilbert, Bob Margolin,
Bob Stroger, Steve Cropper, and Washboard Jackson
are usually playing here.

Oct - 2020? Oct-2019 was CANCELLED Ponderosa Stomp back in action
in Louisiana at the New Orleans House of Blues. The Annual Down in
the Bottom Blues was held in Memphis, TN in 2006 due to Katrina flooding
in New Orleans, LA. Mystic Knights of Mau Mau always have a
great lineup including Gary U.S. Bonds, Barbara Lynn,
Kenny Brown, Duane Eddy, Red Simpson, Joe South,
The Trashmen, Sugar Pie DeSanto, and many, many more.
www.ponderosastomp.com
click on RED link to see more.......
Deep Blues Festival October 15-18, 2020 662-351-4041 Shack Up Inn
& New Roxy - Clarksdale, MS. Yea, that's right Blues Lovers,
Chris Johnson retired but this Blues Show goes on, in 2018 you saw
Bob Log III, Jimbo Mathus, R L Boyce, Lil Poochie with Hezekiah,
Rev John Wilkins, Molly Gene, James Legg, Adia Victoria, and
Alvin Youngblood Hart. Previously you saw the likes of
Cedric Burnside, One Hand Dan, Pork Chop Willie, Charlie Parr,
along with The Bonnevilles, K M Williams, Bill Abel,
The Bully Boys, The Bush League, James Leg, Muscle Theory,
and Elam McKnight. Maybe see Travis Kilgore and
Pork Chop Holder too. www.DeepBluesFest.com

Previously, Deep Blues Festivals were in Lake Elmo, MN in
July. The festivals ended in 2009 AFTER 3 YEARS. These
festivals had something for everybody. 70 acts over 5 days.
You saw & heard Black Diamond Heavies,
Hezekiah Early & Elmo Williams, T-Model Ford, The BirdDogs,
Shack Shakers, Buffalo Killers, Bob Log III, Black Smokers, Cedric
Burnside, Left Lane Cruiser, Rev Dead Eye, Ol Bloody Mule, Gleam,
Brass Kings, Spider John Koener, Robert Cage, Charlie Parr,
Gravel Road, Pearlene, Scott Biram, Mudlow,
Luther The Devil, Jawbone, Moaners, Hillstomp, and
Lightning Boy Malcolm. At this time of the year, you didn't have to
wear snowshoes according to organizer Chris Johnson. From The Golf
Course in 2007 to The Fairgrounds in 2008 to The Cabooze Club
in 2009. See you around Chris and best wishes.

click on RED link to see more.......
October 16-25, 2020 Oct - 2005 OOPS Hurricane Wilma washed
it out! Fantasy Fest-Key West, FL This is not for the
faint of heart. After 39 years these Freaks, Goddesses, & Geeks
know how to party. A really BIG Fruitcake romp on Duval Street.
You'll see Gnomes, Toads, and White Rabbits! They usually let
it all hang out at this festival in The Conch Republic.
www.fantasyfest.com for more info.

click on RED link to see more.......
Feb 1, 2006 FLIGHTS ENDED Red Lion Casino Casino
Express/Xtra Airways trips to Elko, NV 3 nights/4 days $100 total
each person included flight & Lodging. This Northern Nevada Casino
used to fly from 200 cities to bring in the gamblers before casinos
were readily available in your home state. High fuel prices and
proliferation of casinos led to the termination of these
cheap trips after 25 years of service. The casino is still
open, however you gotta get there by yourself!

click on RED link to see more.......
Dec 31 Where else? - Times Square-NY It's The Big Apple,
Gotham City, call it what you want, but it's the right place to
bring in the New Year. Floyd Lee, and Rat Pack member Short
Hair Davey live here in the Bronx!
www.nyctourist.com for more info.
Copyright © 1998-2020 MojoRat LLC. All rights reserved.