Riverside Hotel - NOW CLOSED
On September 26, 1937 the Famous Blues woman, Bessie Smith died in Room #2 of
this building after an accident near the Friar's Point, MS turnoff on Highway 61.
Bessie's left arm was torn loose at the elbow as stated by Dr. Hugh Smith the person
that came upon the overturned car around 2 A.M. Bessie's car had collided with a
trailer truck that had just pulled onto the highway. A second car driven by Robert Turner
rear ended the doctor's car, still sitting in the middle of the highway, and additional
people in the Turner car were injured. Much of this was reported in the Clarksdale, MS
newspaper of September 26, 1937. The newspaper also said 2 ambulances came to the
scene and a tow truck from the Owl Service Station driven by Jim Albino hauled the old
Packard away. Bessie's Packard auto was driven by Richard Morgan, an Uncle of Lionel Hampton.
Smith was originally buried in an unmarked grave in Philadelphia, however in
1970, Janis Joplin put up one-half of the money for a tombstone at Mount Lawn Cemetery in
Sharon Hill, PA. Jack Gee was Bessie's husband at the time, however they were separated for
seven years prior to Bessie's death. The front portion of the now Clarksdale, MS Hotel previously
served as the G. T. Thomas Hospital. Bessie Smith, known as "The Empress of the Blues" was
earning $2,000 per performance at this time in 1937. Bessie also had her own private railroad car
and an entourage of 45 people. Rap/MTV star Nelly probably receives more than $2,000 per
performance but does Nelly have a posse of 45? In any case, Bessie was a huge star in 1930's,
when $2,000 a show was a fortune!
Grammy Lifetime Achievement Award in 1989.
Grammy Song Award-Downhearted Blues (Paramount 1923) in 2006
Grammy Song Award-St Louis Blues (Columbia 1925) in 1993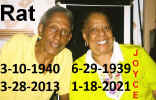 Zelena Larita Ratliff is the current Owner of this Venerable Hotel. Zelena took over
on March 28, 2013 after her father Frank "Rat" Ratliff died. Rat took over
on April 13, 1997 after his mother Z.L. "Momma" Hill died. Z L Hill
converted the building in 1944 to a Hotel from the previous G T Thomas Hospital.
Momma Hill only allowed men in her Hotel, and all the men staying there were considered
her sons. There have been many Bluesmen & Notables through the years. John Lee Hooker stayed
in room #6 and used to practice on the front steps. Other guests have been Robert Nighthawk,
Sonny Boy Williamson II, C. L. Franklin, Howlin' Wolf, Sam Cooke, Joe May, and
John F. Kennedy Jr. - yes, THAT John F. Kennedy, Jr.!
Zelena's father, "Rat" had been carrying on in the Blues since 1997 and in 2003
received the Early Wright Blues Heritage Award. You can see the history of the award
and other winners by clicking here.
Ike Turner lived in room #7 a number of years and the song "Rocket 88" was written within
the hotel. Momma Hill was a professional seamstress and embroidered "88" on the handmade
red ties for the men and also designed and made each dress for the Ikettes. Ike's song "Rocket 88",
inspired by the fast Oldsmobile Rocket 88 car of the time, was beat heavy and a boogie rhythm
tune that along with the car became a #1 hit in 1951.
Here's a 1951 Olds Rocket 88 belonging to St Louis Frank.
CLICK HERE FOR MORE 1951 Olds Rocket 88 Pictures
Rat expanded the LOBBY in March - 2011, that's with help from Joyce & Z.
For about 9 years during the 1970's Rat ran a popular joint called the Subway Lounge in
the basement. Rat still has the speakers and console as shown in the picture to the left.
According to Rat, the Joint Was Jumpin' with a full house and a regular bunch. Later,
the area was converted to guest rooms and the outside entrance was closed.
Rat was a main source of the Blues History for the Clarksdale area. We had many discussions
at The Riverside about the Good Old Days with the likes of Junior Hill,
George Messenger, Buster Motin, James Alford, CV Veal, Sam Carr, Big Jack Johnson,
Bilbo Walker, and others. These guys would rattle off the stories of all the Joints that are
now gone such as Smitty's Red Top (ex-Pig Trail Inn), Margaret's Blue Diamond, The Big House,
Gene's Snack Bar, Mac's, the Black Forest, Casanova, Blue Den, JJ's on 61, The Savoy, Lucky's,
Chicken Shack, Big Jack's Possum Trot, and The Dipsie Doodle located at Issaquenna &
4th Street, where Alan Lomax recorded Honey Boy Edwards in 1942. George Messenger
always mentioned that you had to walk in the streets as the sidewalks
were so full of people. Yea, Clarksdale was jumping.
Storm Damage at Hotel in April-2020
February 7, 2008 began The Year of the Rat
The Year of the "Rat" ended in 2009, however Rat himself carried on until his death on March 28, 2013.
Frank "Rat" Ratliff, age 73, died on March 28, 2013 at the Riverside Hotel in Clarksdale, MS.
He will be missed by all. The funeral was held at 1st Baptist Church
115 MLK in Clarksdale, MS on April 6, 2013. Burial was at McLaurin Cemetery on Hwy 61
Frank Ratliff Funeral pictures - click here
In memory of Nath Davis, a 30 year resident in room #8 of the Riverside Hotel. If you have
been a guest at the Hotel, you probably met Nath as he was a friend to all and everyone liked his
easy going personality. He always remained calm, cool, and collected. Nath assisted Rat
from time to time and took time to make the guests feel at home. I don't think you could
find a guest that wouldn't say something nice about Nath. Nath had been ill during 2006 & 2007
and had been receiving chemotherapy in Jackson, MS. After two days in the Clarksdale hospital,
Nath died on July 19, 2007 at the age of 52. Over 200 people attended the services at Jerusalem
Baptist Church and the burial at McLaurin Memorial Gardens in Lyon, MS. Nath is missed by all.
Back to "Joints-Riverside Hotel" page
Page is provided by Nico Productions of MojoRat LLC